Time to change your zoom background...
Working from home or remote working looks like it is here to stay. A recent study found that 47% of the UK population felt that employers should not be encouraging people to go back to work if possible for them not to. Inevitably, at some point in your life, someone has probably said: "a change of scenery will do you the power of good". But, have you ever stopped to wonder why? No? Fair enough. In short, by putting yourself in a different space and changing the visual input your brain receives, you work parts of your brain that may have switched off when staying in the same routine with the same inputs. In fact, what's more, a change of scenery can spark creativity and improve mental well being. To summarise, working remotely is here to stay and changing your scenery is a must. The question then is where to go? Well, we've put together our top 5 places to work remotely from. Don't worry, if you're wondering what to take with you, we've also got that covered.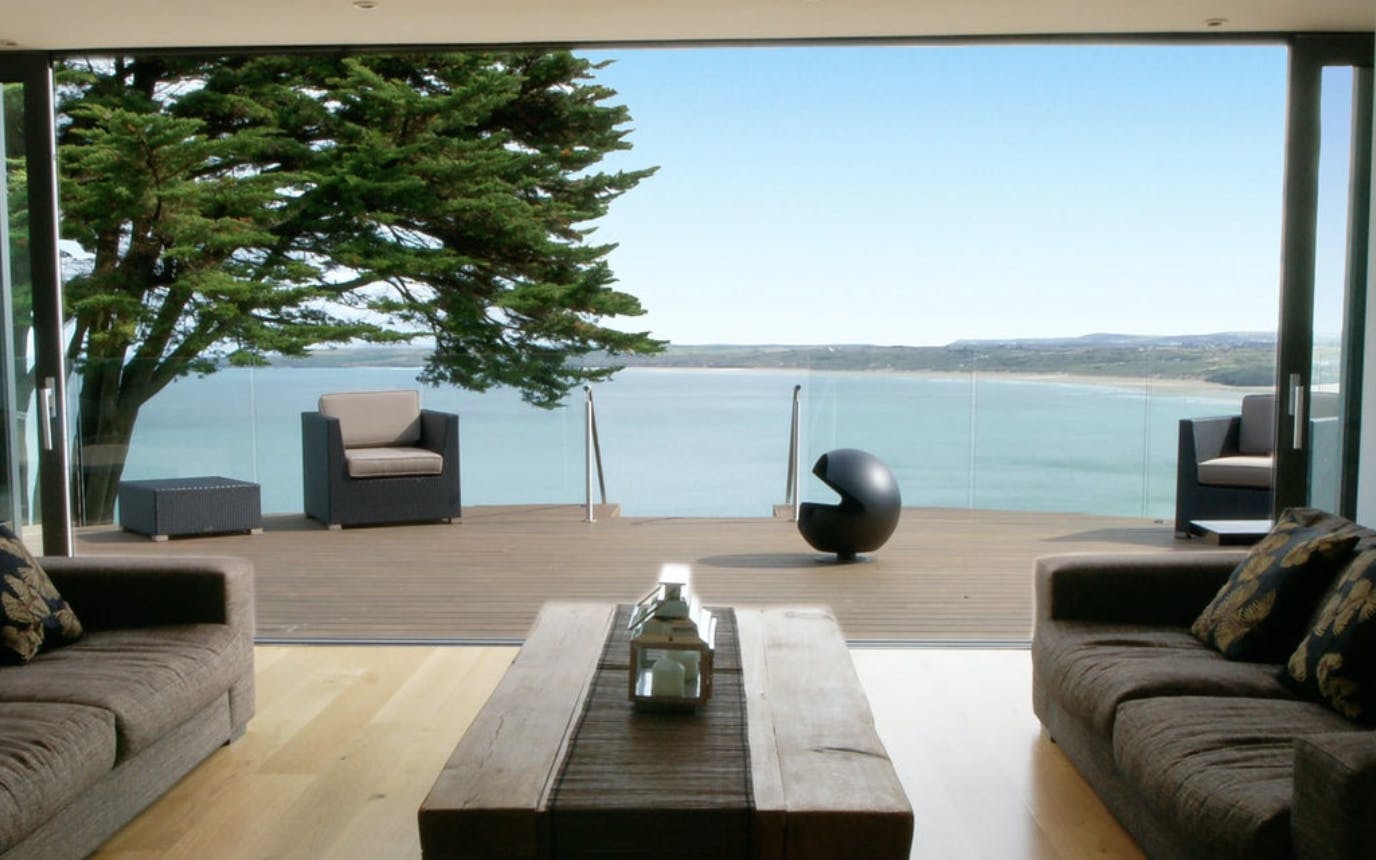 Dolphinholme, Cornwall
I probably don't need to say anything, you've seen the view and you are already picturing yourself there with a morning brew, pen and paper and cracking on with some work. But in case that hasn't convinced you this coastal property is nothing short of amazing. The interior has been meticulously designed by an architect to ensure that no matter where you are, you are always getting the best views of the Dolphinholme coast. after a long day of work, you can walk 5 minutes from the end of the Garden and be on the beach, the perfect way to end a hectic week
Tinywood homes, Warwickshire
The selection of tinywood homes are created and handmade by a gentleman called Aidan. I was lucky enough to take a trip here for a few days. On arrival at the homes, I was instantly welcomed by the manager of the properties, Radek. He was incredibly nice and went above and beyond to help us with getting set up and recommendations of where to go and what to do. First, we were shown the innovative and bespoke properties which come with a host of well thought through features; the hot tub and BBQ were a massive hit. The properties are surrounded by a host of English country pubs that serve great food and drink at a great price! To finish off our trip, we headed to the historic town, Royal Leamington spa. We enjoyed perusing the shops, trying the local restaurants and walking around Jefferson gardens. It was truly a fantastic stay and well worth checking out if you fancy escaping to the countryside and getting your laptop set up!  
The Windmill, Blackthorn Hill
Situated in rural Oxfordshire, you will find the striking Windmill at Blackthorn hill. Its history dates back to the seventeenth century and is a grade II listed building. Thanks to a recent renovation the mill now features 360 views, three floors and a double room with an ensuite. Once you take in the rural views with your warm morning mug of coffee, you can get your laptop positioned with the perfect view in the background. This place truly has all you need for the perfect working week away.
The Boathouse, London
working on a boutique hotel barge that is dripping in style? yes please! Floating in west london's pocket park, this place has been carefully designed in partnership with interior brand design company made.com. It is filled with contemporary art, hand-picked designer furnishings, and minimalist Scandi-style décor that's begging to be Instagrammed! Whilst staying at the boathouse, you'll be treated to a complimentary Daylesford hamper, packed with goodies including fresh bread and homemade jams. Two bicycles and a rowing boat are also provided, free for you to take off and explore London to your hearts' content.
Reds Kite Conker, Llanafanfawr
Ever wanted to stay in a conker that is gently nestled in a remote Welsh valley? Well, now you can. This off-grid, state-of-the-art glamping pod that's been expertly engineered for comfort. The copper-clad Conker itself is the brainchild of a former engineer, who brought his design experience with Bentley and Rolls-Royce fully to bear in creating a genuinely spectacular pod-for-two. You'll find the nearest shops and pub within a ten-minute drive, including the noteworthy Newbridge On Wye Post Office, ideal for stocking up on supplies and bunkering in to get some work done!
So, what are you waiting for, its time to take a break from the usual grind and reinvigorate yourself. Give your senses a different input and experience some of the amazing places the UK has to offer. Book a property, pack up your laptop and jump in a car.